Our Philosophy is unique in health care-giving
Bridges rejects the health care industry notion of "professional distance" as a way to avoid caregiver burn-out. Instead, our caregivers are empowered to give the care they would want themselves. The culture at Bridges cultivates and celebrates creativity, allowing caregivers the autonomy to do what's right, and to experience the joy of connecting with each person who walks through our doors.
We Hire and Keep the Best in the Business
With generous compensation packages and a supportive culture, Bridges attracts the best caregivers and we keep them here. We inspire and motivate each other to break the mold by personalizing our approach and making every day the exception to the rule.
Our average Resident to Caregiver ratio of 4-to-1 is unparalleled
In an industry with average resident to caregiver ratios of 9-to-1, Bridges caregivers have time to slow down and figure out what's important to each resident... and make it happen.
See our caregivers being caregivers...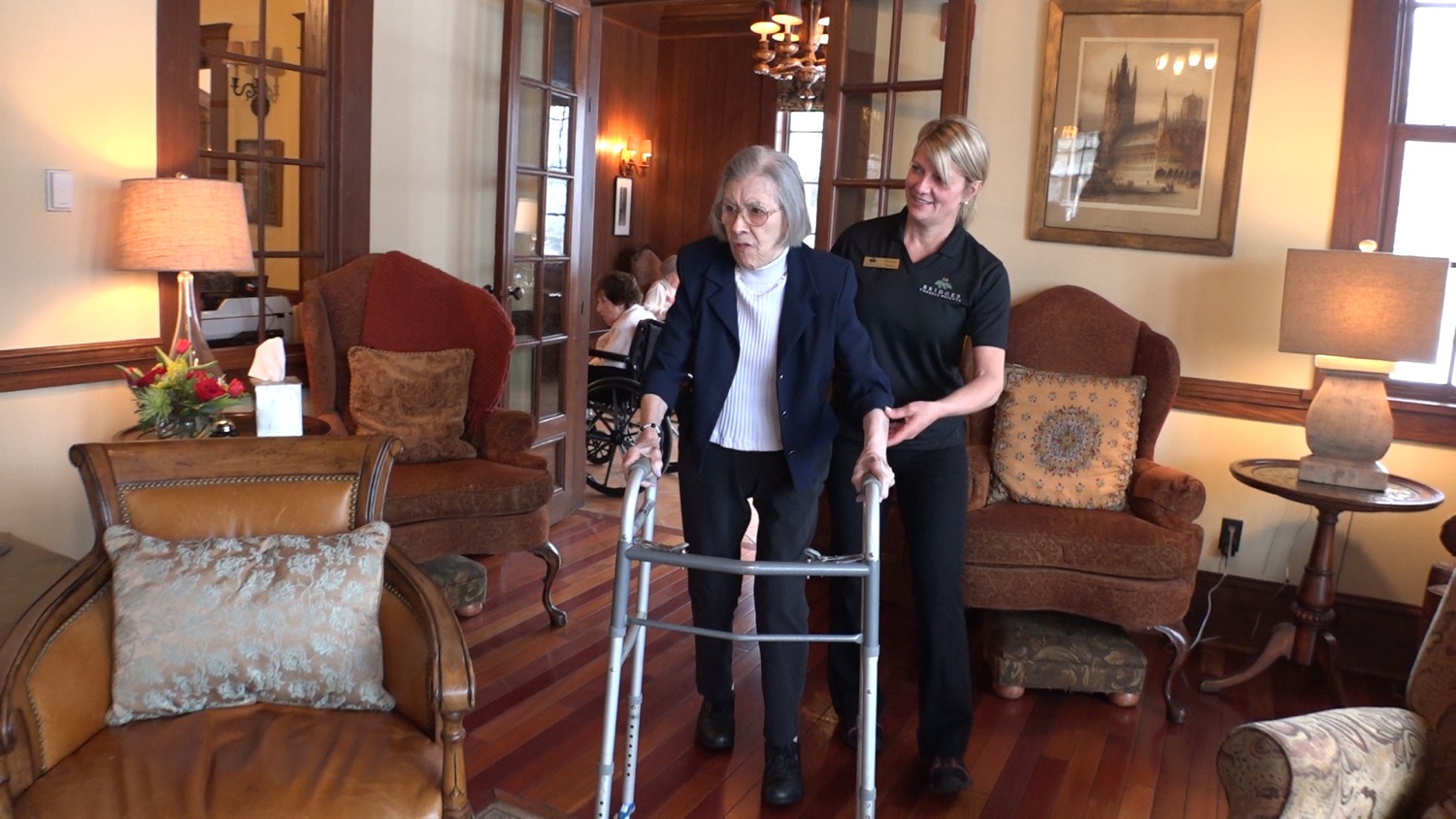 Elizabeth Classen Ambrose, Founder & Proprietor
For Elizabeth, Bridges Cornell Heights represents the culmination of more than 25 years of senior care immersion. Her journey began with co-founding a NYS licensed home health care agency with her sister Patricia, which quickly became the largest privately owned licensed agency in upstate NY. Their partnership evolved with the renovation of historic homes into assisted living residences in the Ithaca area and Rochester. Recognizing a strong need for a premium retirement option tapped into the cultural and ongoing educational opportunities of Cornell University, Elizabeth developed the senior residences known as Bridges Cornell Heights, beginning with the renovation of the former home of Elaine and John Alexander, a Cornell trustee. The connection between Bridges and Cornell is strong and multi-faceted. Elizabeth lectures regularly in classes at Cornell that concentrate on the emerging intersect between hospitality and healthcare. As a panelist in Cornell Entrepreneurship Conferences and in roundtable forums with the Cornell Center for Healthy Futures, Elizabeth focuses on leading-edge design and disruptive innovation in health care. This thriving partnership with Cornell creates winning ventures: Project Generations pairs Cornell students with Bridges residents for long-term weekly visits; Cornell professors lead engaging discussion groups at Bridges; and access to the brightest interns helps Elizabeth and Bridges light the path of the future for our wisest generation. Moving forward, Elizabeth's plans include adding options to accommodate younger, more independent seniors and mentoring other senior living professionals in the Bridges approach. Elizabeth is energized and inspired daily by a love for people - especially older, wiser people and her young children.
Elizabeth Demisse, Executive Vice President & Director
Elizabeth is originally from Ethiopia and came to Ithaca to pursue her husband's interests at Cornell. She joined the Bridges team in 2005 as a home health aide and eventually worked her way to our director position. Each day, it is evident that Elizabeth experiences great joy being at the center of the Bridges team and learns life lessons from interacting with seniors of diverse backgrounds with vast and varied life experiences. In her personal life, Elizabeth is a happily married mom of three children and speaks three languages.
Christina Slattery, RN, Administrator & Clinical Director
Christina joined the Bridges clinical team in 2015 bringing 7 years of nursing experience, almost all of which was in palliative care. Her experience as a hospice nurse trained her to continually assess and think quickly in urgent situations, all the while keeping residents calm and supported. Compassion and empathy are her strong suit – Christina really cares – and she prides herself in the relationships she's built with our community practitioners. When not spending time with her family, which includes four children ranging from very young to teens, she enjoys knitting, crocheting and cooking.
Dan Guthrie, LPN
Dan came to Bridges in 2002 possessing extensive experience in nursing but longing to join a team with a more individualized approach to caregiving so his interpersonal strengths could shine. By most accounts, the partnership between Dan and Bridges is a match to be reckoned with. Dan's many years in nursing care create impeccable standards while his smile is contagious. When he's not providing exceptional care to our residents, Dan is known for bringing his chocolate lab, Coco, to visit Bridges. His hobbies include landscaping, travel and architecture.
Arthur McGruder, Executive Chef
Chef McGruder received his formal culinary arts training at Alfred State College. When he joined Bridges in 2003, Chef McGruder brought his philosophy that food is more than just fuel for the body. Meal time should be a joyful time that nourishes the soul as well as the body. Chef McGruder believes food has a way of taking a person back to a point in their life where they long to be. He will often sit down with residents after a meal and discuss upcoming meal ideas or current events. His vibrant personality brings humor and lightheartedness to the table each day.
Cathy Paddock, Human Resources Director
Cathy provides caring stewardship of Bridges' most important assets – our people! Cathy holds a BS degree from Cornell University in Human Development and Community Services. Her work experience at Cornell's Cooperative Extension of Tompkins County, the Tompkins County Department of Social Services and 28 years of providing bookkeeping and case management services to seniors, provides Cathy with broad based industry knowledge. In keeping with her focus on community service, Cathy has held leadership positions on boards and committees including Cornell Cooperative Extension of Tompkins County, Tompkins County Office of the Aging, Foodnet Meals on Wheels and Dryden United Methodist Church. Cathy backstops so much of what we do at Bridges.
Beth Farr, Activities Program Coordinator
Beth is often referred to as the "Cruise Coordinator" at Bridges. In her role, Beth has expanded and enhanced the options available to residents and takes pride in enriching the life of each resident. Her background in fine arts, education and clinical art therapy, as well as her experience as a member of large interdisciplinary teams in NYC and Buffalo, make her well suited to oversee activities programming at Bridges. In her personal life, Beth enjoys walking her dogs, gardening, cooking and spending time with her family.
Rosa Desoto, Activities & Physical Wellness Facilitator
Rosa came to the U.S. from Venezuela in 2000 to pursue a better life for her family and herself. She is such an energized and personable caregiver, it was just a matter of time before she and Bridges found each other. Rosa has worked at Bridges since 2003 in many different roles. Her master's degree, with a focus on special education, builds on her special talent: knowing how to bring happiness to the lives of seniors. Rosa's favorite part of working at Bridges is "to have the opportunity to meet and care for people who have given so much to the world."
Lanie Wilmarth, Bookkeeper
Lanie joined the staff as Bridges' bookkeeper in 2007. She has been a valuable asset, bringing with her over 30 years of experience in both public accounting, as well as the skills of managing her own self-employed bookkeeping business in the Ithaca area. Lanie balances out her detail-oriented days by hiking, kayaking and birding in the beautiful Finger Lakes Region. She's the proud mother of two adult children and is thrilled to be nana to two special grandchildren.
Carrie Lee Narrow, Relationship & Development Director
Utilizing a decade of experience in senior living marketing and development, Carrie established this new position at Bridges in 2015. In this role, she cultivates and builds community partnerships focused on the important work of finding the best and most appropriate residence for each and every senior. She also manages Bridges' social media presence. For Carrie, the most rewarding part of working at Bridges is playing her part in bringing dignity and comfort to seniors, while bringing smiles to their faces. After 10 years in the Rocky Mountains of Colorado, Carrie, a native of Upstate NY, lives with her husband in Homer. They are at their happiest when enjoying the outdoors four-wheeling, hiking & skiing.